Product Guide
Our product guide is here to introduce you to our product ranges and help you make an informed decision as to what product is right for you. We are confident you will find your ideal product within our extensive range. In the unlikely event that you cannot find what you are looking for, simply call us free on 0800 1777 118 to discuss your requirements further.
Our fantastic range of instant cold packs turn ice cold in seconds and are ideal for adding to sports kits, treating strains, sprains, bumps and bruises, or even for helping to cool down on a warm day. Simply squeeze and shake packs to initiate an internal reaction which allows packs to stay ice-cold for up to 40 minutes at room temperature.
Our Original, Sports and Kids cold packs from brand leader Koolpak provide a wide range of instant cold therapy solutions from As Low As 31p per Pack!
A versatile treatment as most of our reusable gel packs can be used either hot or cold and reused many times. When cold, gel packs are ideal for all cold therapy applications and assisting in reducing swelling in common injuries. When hot, gel packs can ease and soothe chronic or rheumatic pains as well as being a welcome source of heat on cold days.
Our best selling Koolpak Standard Gel Packs can be frozen by placing in a freezer or warmed up by submerging in hot water or placing in the microwave. All of our reusable gel packs feature a robust outer material so that packs can be reused many times before they need for replacement arises.
We supply a great selection of hot and cold therapy treatments for children designed to provide effective and soothing treatment whilst also raising a smile. Our Koolkids Instant Cold Packs turn ice cold in seconds and their compact size is ideal for kids or for adding to first aid provisions. Hot/Cold Pack covers are a great way of making therapy more comfortable when treating children.
Ever wanted all your hot & cold therapy essentials together in one place? Our range of hot & cold therapy kits combines best selling instant cold packs and reusable gel packs with freeze sprays and other first-aid accessories to create a host of kits perfect for a variety of applications.
Hot & Cold Therapy kits can be an excellent way for sports clubs to have essential supplies in easy to carry and convenient bags, perfect for a quick response and use on the go.
All of our kits are supplied in high-quality Koolpak bags and can be easily replenished with the individual contents and complete refills available separately.
An extensive range of treatment solutions ideal for soothing chronic pains caused by conditions such as rheumatism or arthritis. Also used for rehabilitating sore or stiff muscles. Our range includes basic hot packs, warming sprays and rubs, as well as warming gel packs specifically for children.
Koolpak Instant Hot Packs become hot instantly and are ideal for providing single-use heat therapy to a range of injuries and can also be used as hand or body warmers on cold days. We also supply Reusable Instant Hot Packs which can be made hot in seconds and recharged for re-use. Hot/Cold Pack covers are an ideal way of making heat therapy more comfortable or try using Holsters to help keep packs in place for precise and convenient treatment.
Simple solutions to assist in the administration of hot and cold therapy products.
Hot/Cold Pack Covers are ideal for making prolonged or frequent treatment more comfortable for the patient by stopping packs from being in direct contact with the skin – particularly useful when treating children. Sports Wrap and Holsters are ideal for securing hot or cold packs in place to provide a convenient and effective application.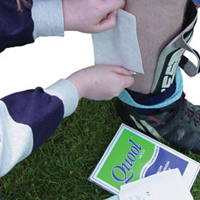 A range of innovative products that provide effective treatment whilst being simple to apply through self-adhesive backings. Cold wraps and patches are ideal for treating strains, sprains, bumps and bruises. Warm patches are ideal for soothing muscular and rheumatic aches & pains.
Our Koolpak Kool Bandages are a cost-effective way of combining cold therapy & compression with no need for prior refrigeration. Quool Patches are ideal for providing instant relief of minor sports injuries and can be worn whilst playing.
Traditional menthol based analgesics can be sprayed at the site of injury or rubbed into the skin. Rubs are ideal for providing a lasting warming effect within the skin and menthol based formulas help to ease and soothe when worked into sore muscles. Sprays are ideal for a quick and simple solution to soothing or numbing injuries during sporting activities or exercise.
Our extensive range of sprays and rubs are available in a range of sizes and can be added to first aid kits and sports bags. Our complete Hot & Cold Therapy Kits combine instant and reusable cold packs with sprays and rubs to provide a comprehensive hot/cold therapy offering.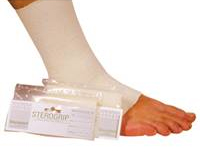 Traditional first aid essentials are a must for providing conventional treatment to any ailment. Our great value range provides a variety of solutions for the initial treatment of injuries prior to the application of hot or cold therapy.
Our Alcohol-Free Wipes are ideal for cleansing wounds and our range of Dressings, Plasters and Bandages effectively shield and protect wounds from further knocks or contamination.
Injuries that involve broken skin should always be cleaned and covered before applying hot or cold therapy products to treat pain or swelling.
We now also stock a wide selection of different first aid kits to complement hot/cold therapy and allow you to easily treat more significant injuries or wounds. 
A range of first aid kits with innovative bag designs that allow kits to be packed full of first aid essentials whilst still being lightweight, compact and easy to carry. For a comprehensive first aid provision, add hot and cold therapy products to ensure a full range of treatment is available at the touchline.
Our Sports and P.E Kit is packed with a wide range of contents for dealing with sports-related injuries containing instant cold packs, freeze spray, eyewash pods, steri-strips and a wide range of bandages and dressings. Our Sports Kits are ideal for treating common ailments such as sprains, strains, bruising, cuts and grazes.
Hot/Cold therapy and first aid essentials need to be accessible, organised and easy to manoeuvre when it matters most. Our fantastic range of robust, waterproof empty medical bags keeps supplies safe and secure whilst ensuring they are organised and easily at hand in the event of an emergency.
If you are looking for a custom first aid or hot/cold therapy kit, why not buy an empty bag and fill with the contents of your choice?